Diocesan Season of Creation Celebrations 2023
Caring for Our Common Home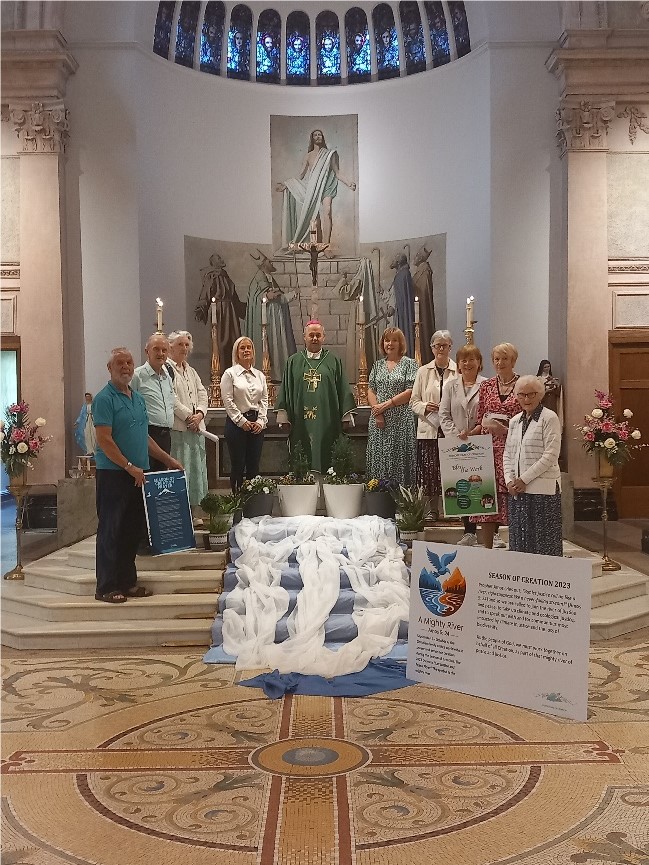 Bishop Martin Hayes and the Kilmore Care of Creation Group
From September 1st to October 4th, the Christian family unites worldwide in prayer and action for creation.  The 2023 theme is "Let Justice and Peace roll on like a mighty river, righteousness like a never-failing stream! (Amos 5:24).
Bishop Martin Hayes gave a powerful, thought provoking and inspiring homily at the Season of Creation Celebrations during Sunday morning Mass at 10am on 10th September 2023.  Referring to Matthews Gospel 18:15-20, Bishop Martin reminds us that all of our actions have consequences which affect our relationships with others, be it family members, our neighbour, friends and even those whom we do not know. 
Reflecting on the work of Trócaire who have been focussing their efforts on supporting those who are being directly impacted by climate change, it has been reported that twenty million people have been displaced in Africa alone.  It is estimated that with irregular weather patterns, another 120 million people will be forced into poverty by 2030.
Many parts of the world experience the too often devastating effects of climate change and many are asking who or what is responsible?  Bishop Martin stated that climate change is, in fact, real and it's happening now and on a global scale.  We are all responsible but it is the biggest industrial corporations in our developed world that is causing the poorest in our developing world to suffer the consequences.  In a recent synod of bishops of the Amazon, we heard, 'we propose to define ecological sin as an action or omission against God, against one's neighbour, the environment … against future generations.' Each one of us can start making reparations to the developing world through our daily actions.  In this week's readings, we are invited to not only be accountable for our own actions but to hold others accountable for theirs.   "We must always do this from a place of love as love is the one thing that does not offend and it is love that is the fulfilment of all of the commandments."  
Bishop Martin invites each one of us to listen, to understand, to respect differences, to remain hopeful and to ask ourselves a fundamental question, "What if our best times are ahead of us?"  We know that we can do better for our own sake and for the sake of our natural world and all of its inhabitants.  We are all connected, interconnected and interdependent on each other and on nature.  
The Kilmore Care of Creation Group have been busy raising awareness and promoting action through a number of initiatives ranging from cultivation of wildflower places locally, to educational trips, community screening of 'The Letter', a 'Shine a Light on Climate Justice' Mass and engaging with members of the public at the Summer Cottage Markets in Cavan during the Diaspora Homecoming Festival. 
In conclusion "We are called to join the river of justice and peace, to take up climate and ecological justice, and to speak out with and for communities most impacted by climate justice and the loss of biodiversity."
If you would like to know more about who we are and what we do or if you would like to become a volunteer, then please contact an existing member of the Kilmore Care of Creation Group or email us at kilmorecareofcreation21@gmail.com
Note:  Pope Francis will release an Exhortation of a second Laudato Si' document for publication on 4th October 2023 to coincide with the Feast Day of St. Francis of Assisi, the Patron Saint of Ecology.