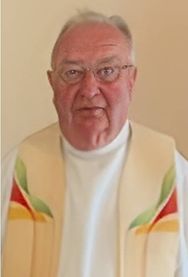 Fr. Patrick (Pat) Farrelly R.I.P.
1949 – 2023
It is with deep regret that the Diocese announces the death of Fr. Patrick (Pat) Farrelly, Priest-in-Residence, Parochial House, Upper Lavey, Co. Cavan, and formerly of Cornaglea, Mullagh, Co. Cavan.
+ Born 9 June 1949, son of the late Thomas Farrelly and Rose Denning, Cornaglea, Mullagh, Co. Cavan (Mullagh Parish).
+ Prior to commencing his studies for the priesthood, Fr. Pat worked as a chef. 
+ Studied for the Priesthood at Buchlyve, Stirlingshire, Scotland, from 1987 to 1990 and St. John's College in Waterford from 1990 to 1996.
+ Ordained to the priesthood by the late Bishop Francis J. MacKiernan in the Cathedral of SS. Patrick & Felim, Cavan, on 9 June 1996
+ Appointed CC Knockbride – 1996
+ Appointed CC Upper Lavey – 1998
+ Appointed CC Kildallan – 2002
+ Appointed PP Ballaghameehan/Kiltyclogher – 2012
+ Appointed Priest-in-Residence Upper Lavey – 2019
+ Returned to the House of the Father – 2 August 2023
Sincere sympathy and heartfelt condolences are extended to Fr. Pat's family – his sisters Sr. Elizabeth, Kitty and Rosemarie, brothers Noel and Thomas, nieces, nephews, grandnieces, grandnephews, Bishop Martin Hayes, Bishop Leo O'Reilly, and his fellow clergy of the Diocese of Kilmore, extended family and his large circle of friends.
Hear with favour our prayers, which we humbly offer, O Lord, for the salvation of the soul of Fr. Pat, your servant and priest, that he, who devoted a faithful ministry to your name, may rejoice in the perpetual company of your Saints.
This we ask through Jesus Christ Your Son, our Lord. Amen.
May his good and gentle soul rest in peace.
Requiescat in pace.