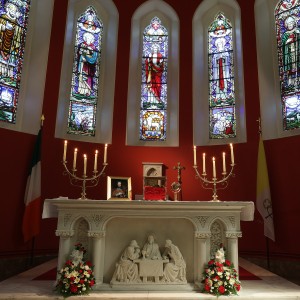 Relics of St. Oliver Plunkett will visit the Conaty Chapel of the Kilmore Diocesan Pastoral Centre in Cavan on Tuesday 23 May 2023.
The relics will arrive at the Centre for a Liturgical Welcome celebrated by Bishop Martin Hayes at 10:00a.m. and will be available for veneration until 10:00p.m. that evening.
There will be a lunch-time Mass in the Chapel at 1:15p.m. celebrated by Fr. Dermot Prior, PP Virginia, for those doing examinations at this time.  The homily will be given by Canon Benedict Fee P.P., Clonoe, Co. Tyrone (Archdiocese of Armagh) and author of 'Not Force Nor Might – The Gift of the Martyr' and 'In His Master's Footsteps – The Way of the Cross in the Company of St. Oliver Plunkett, Archbishop and Martyr'.
Canon Fee will also celebrate Mass at 5:45p.m. and deliver the homily.  This Mass is being offered for deceased members of the Knights of Saint Columbanus from across the Diocese of Kilmore
Bishop Martin Hayes will be the principal celebrant at the 8:00p.m. Mass and Canon Fee will again give the homily. The music for this Mass will be provided by the choir from St. Mary's Church, Teemore, Co. Fermanagh.
There will also be opportunities to avail of the Sacrament of Reconciliation during the course of the day from 12 noon to 1:00p.m.; 4:30p.m. to 5:30p.m.; and 6:30p.m. to 7:30p.m.
All are welcome for this very special event which is being organised by the Kilmore Diocesan Pastoral Centre with the assistance of the local Knights of Saint Columbanus.
Petitions/Offerings may be sent to the Kilmore Diocesan Pastoral Centre, The Conaty Centre, Cullies, Cavan H12 E5C7.  All petitions received will be placed beside the relic during its visit.  Please write "St. Oliver" on the top left hand corner of the envelope.
For further information, please ring the Centre on 049 4375004 or email pastoralcentre@kilmorediocese.ie